Photon Mirror. Still from movie 2018 (link)
Welcome to the Paul Malone artist's website
This website is organised in a series of catalogues and project websites providing an overview of my artwork over the past 40 years.
Here you can find catalogues and sub-catalogues showing the artworks that I am currently engaged in, extended projects by domain name and a sequence of archive material arranged by date and type. Selected work can be bought directly online through the individual artwork pages. My art as a whole covers a range of techniques from extended installations to digital movies and machined artefacts.
I have always been interested in how the physical world comes to be here; how it originated, how it maintains itself and what is its relationship to consciousness. Specifically, I am interested in experimenting with the perception of surfaces as a gateway into this domain.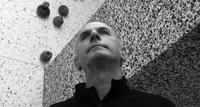 Please see my 'About Paul Malone' page for further theory.
Paul Malone :
Artist's Website
Objects, installations, movies and experiments
If you have enjoyed your visit please donate what you can :