Welcome to the Paul Malone artist's website
This website is organised in a series of catalogues and project websites providing an overview of my artwork over the past 45 years.
Below you can find catalogues and sub-catalogues showing the artworks that I am currently engaged in, extended projects by domain name and a sequence of archive material arranged by date and type. Selected work can be bought directly online through the individual artwork pages. My art as a whole covers a range of techniques from extended installations to digital movies and machined artefacts.
I have always been interested in how the physical world comes to be here; how it originated, how it maintains itself and what is its relationship to consciousness. Specifically, I am interested in experimenting with the perception of surfaces as a gateway into this domain.
I studied Fine Art at Reading University for B.A. Degree in 1976 and MFA in Sculpture at the Royal College of Art in 1980. Since leaving college I have worked in studios based in the London districts of Waterloo, Greenwich and, most recently, Art in Perpetuity in Deptford.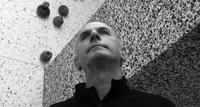 See further Paul Malone theory. I have exhibited extensively in the U.K., U.S. and Europe and engaged in curatorial practice both through exhibition exchanges and through my Ottica TV project.
Please see my CV's for further information