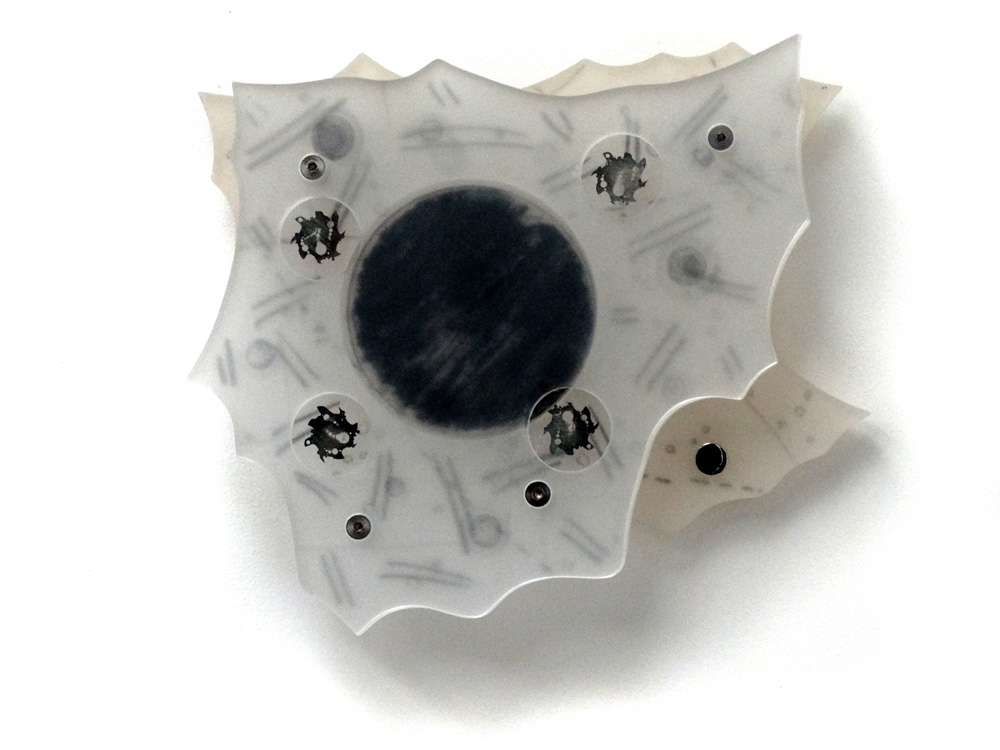 'Celestial Mechanics 25-1075'
Perspex, pencil, french enamel, spray enamel, nickel-silver inserts, fixtures
25 x 25 x 8 cms overall : 2014
This is a four layer perspex sandwich with a 5th layer functioning as a hanging plate. The piece is held together with 4 hex bolts which also function as a hanging structure.
Layer 3 is perspex sanded and includes charge field drawings. Layer 2 has 4 nickel silver acid etched inserts which float as ions above the active surface. The rear of the 3rd layer and the hanging plate are covered with drawn star maps which act as a contextual substrate.
This series of artworks function as a mechanics of the night sky in the form of an engineered artifact. As such, they emulate the way that theories and concepts are constructed about remote objects and events in cosmology and associated meta-narratives.
Oblique and detailed views below :
Note : In these images the nickel-silver inserts appear dark - they are in fact very shiny.
This is due to the need to reduce reflections in the perspex during photography.
Click to expand
Buy this Artwork : £750 : Postage Free

---
Click to Buy using PayPal
Click to Buy using BitPay