'Performance Still : Chalk Quarry 1977' : Display for the exhibition 'Invaluble', APT Gallery, London : 2011
My most invaluable artwork is the next one I am about to do…
However there were certain periods in my art career that were formative though I could not, in all honesty, relate their significance to objects of production or consequence. Sometimes circumstances align in favour of the artist, as if to generate a kind of a creative clapotis. It is the recognition of this, and a willingness to act thereon, which defines that invaluable spirit we recognise as art.
In 1976 I had graduated from Reading University and stayed on in the town to pay off the expenses incurred in staging my finals show. I decided to take a year off and then apply for a post-graduate course at the RCA. That autumn I rented a small shop as a studio with a painter friend but by the Christmas the landlord required the property back to sell and I had to look for alternatives.
During my time at Reading I had taken to cycling off into the Chilterns every Sunday and noticed there were lots of abandoned chalk quarries. By January 1977 I still had not found studio premises and so I recalled the places I had visited in earlier years. I queried what I actually wanted from a studio and decided a chalk quarry would do nicely….
Basically, all I needed was a neutral X and Y axis and the facility to operate creatively in the Z. I decided on a small quarry near Mapledurham which was free from fly-tipping and secluded. Now and again the farmer who owned the land dropped in but he didn't seem to mind and eventually forgot I was there.
The atmosphere there was very stage-like and leant itself to theatricality. It was also host to a multitude of complex and exquisite natural light effects. Today the quarry has been turned into a residential development.
More Images :
Satellite view of the quarry as it is today (credit : Google Earth)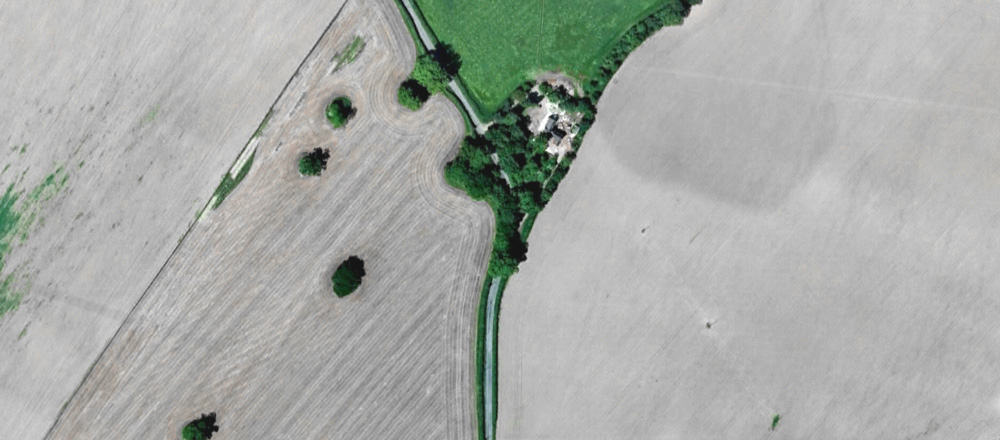 4x views of the quarry from 1977 in colour
4x views of the quarry from 1977 in black and white