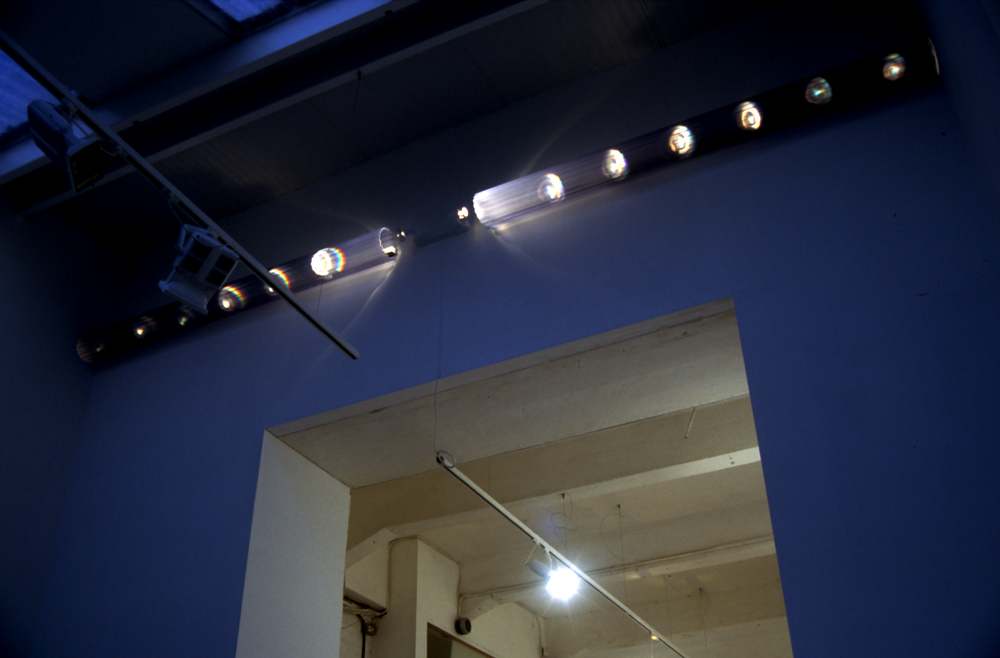 'Plasma Rainbow Stream' : Wall sculpture for the ColourSpace exhibition, APT, London : 2003
Plastic roofing sheet, worked CDs, fixtures and lights. 1000 cms x 45 cms diameter
'Plasma Rainbow Stream' is an illuminated installation piece for the 'Colourspace' show in London in 2003. The piece is composed of two tubes, made from blue corrugated roofing sheet, enclosing twelve prepared CD's that reflect and refract the light entering from the centre. The reflections change to create transient volumes of spectral colours as the viewer passes underneath.
Positioned high in the gallery, the piece seeks to emulate, in common everyday materials, the effects of the electric plasma currents that run through the galaxy and illuminate the stars.
(details below).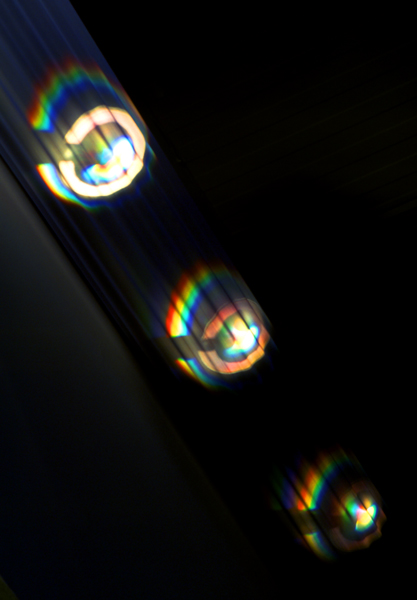 Artists participating in 'ColourSpace' :
Williard Beopple, Katie Pratt, Geoff Rigden, Ekkehard Altenburger, Joan Key, Trevor Sutton, Grenville Davey, David Oates, Chris Ofili, Mali Morris, Jo Bruton, Noel Forster, Stephen Jaques, Stephen Lewis, John McLean, Paul Malone, Laurence Noga, Lee Grandjean, Liz Harrison, Gary Wragg, Peter Kalkhof, Alexis Harding, Nicola Rae, Peter Doig, Chris Marshall, Rob Welch, Paul Tonkin